Quick and easily find your product
> 1 pole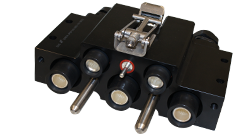 GP Power Connectors from Gimota Inc. are designed for high-power connections with high current and tension requirements. They can be used for example in connections between driving motors and power converters, inter-car connections/jumper cables as well as for inverters and battery connections.
With an applicable tension of up to 3600VAC and 1000A current the GP connectors fulfils most of the requirements and can be individually adapted to the specific application engineering needs. The connector can be realized in different combinations from 1 pole to 12 poles, for cable cross sections from 50mm² up to 240mm², as well as different cable terminations with strain relief, special mating mechanisms and separate grounding contacts are available on demand.
GP Power Connectors are individually designed and adapted to the project specific needs and generally made to order. This allows high flexibility in covering all kind of requirements. It is our pleasure to realise the most economic and appropriate solution with our customers.
Please submit us your request by filling in the form below.