Papers
GIMOTA circular connectors with bayonet lock
Solutions for interference-free and reliable transmissions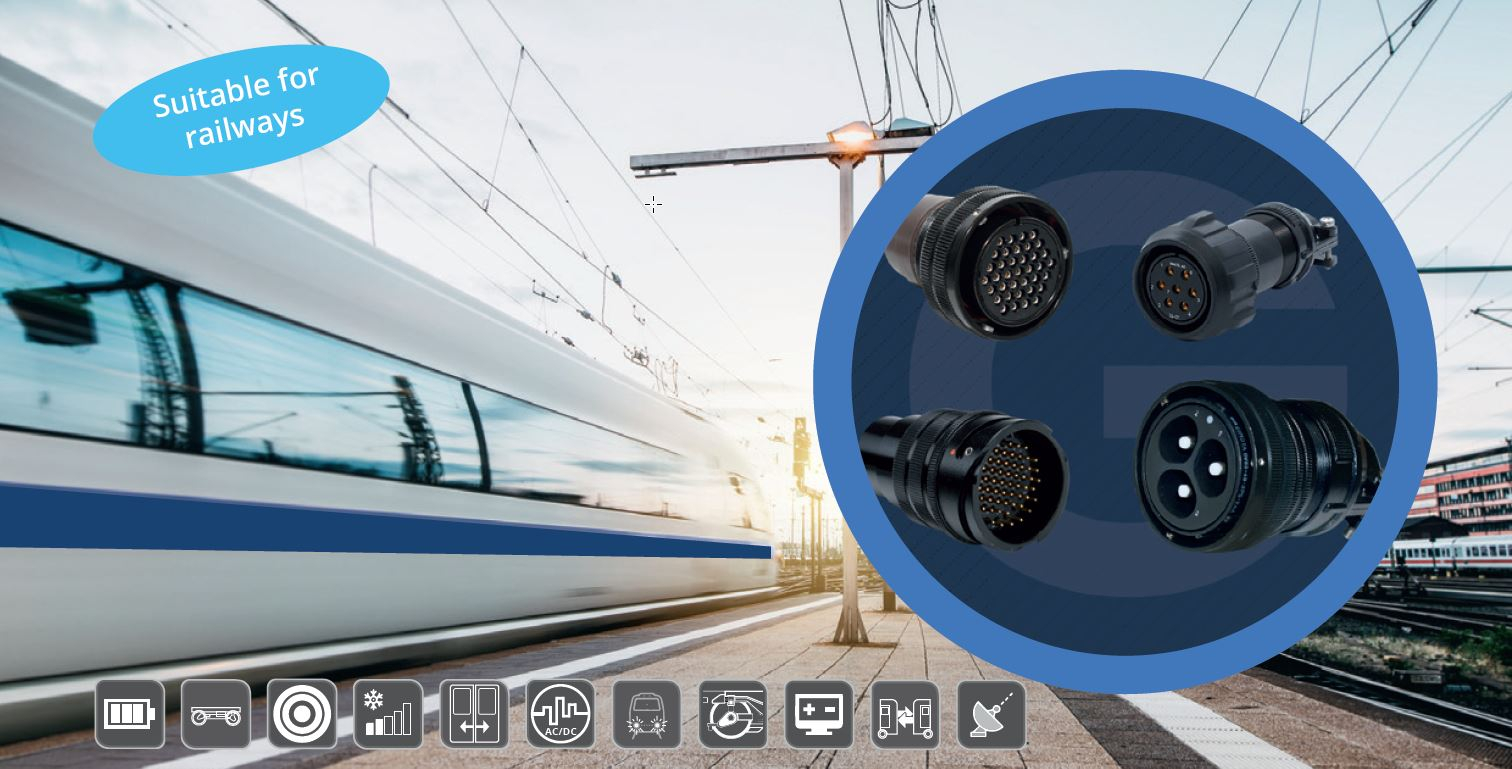 The railway standards demand interference-free and reliable transmission from connectors, even where the environment places high demands on the connector. Wetness, dust or vibrations, for example due to uneven tracks and falling rocks, are daily challenges that railway technology has to face. The strong weather conditions demand a robust material. The connection must be protected from electrical and magnetic interference.

GIMOTA circular connectors have been specially developed for demanding use in rail vehicles. They comply with MIL DTL-5015 and VG95234 standards and are available with threaded or bayonet locks.

The vibration resistance according to DIN EN 61373 as well as the tested protection classes up to IP69 according to DIN EN 60529 and the high fire class make them particularly suitable for the demands of railway technology. They comply with the European fire protection standard for rail transport EN 45545-2 in category R23 HL3 as well as fire partitioning EN45545-3 E20.

Due to the multitude of different pole patterns, the large number of cable outlets and the various housing materials and their coatings, there is a suitable connector for almost every application, whether for data, signals or power.





• Suitable for railway applications
• Resistant housings
• Optionally conductive (EMC) or non-conductive surfaces
• Various terminations with or without shield connection
• Vibration proof
• Tested and proved shielding concepts
• More than 60 years of railway experience

• Bayonet locking
• Conductivity according to MIL 1344A/3007 ≤ 0.5mΩ
• Operating temperature -60°C to +200°C
• EN 45545-2 R22,R23 / HL1,HL2,HL3
• EN 45545-3 R20
• EN 60529 Protection class up to IP69 DIN
• Up to 1000A power
• Up to 3000V voltage
GIMOTA circular connector with bayonet lock
In railway technology, connectors are not only subjected to constantly high shock, vibration and temperature loads, but also to strongly changing environmental influences. In order to function faultlessly at all times, they must be robust enough to withstand these harsh conditions. Connectors used in safety-critical railway applications not only have to withstand shocks, vibrations and other environmental influences, they also have to function reliably and consistently all the time.

Therefore, the materials used have a direct influence on performance and reliability. Voltage values and dimensions, as well as thermal shock resistance, play a major role – especially for underfloor applications such as traction, motor and brake controls, where cables and connectors are exposed to extreme temperatures. The components must be designed in accordance with EN 45545-2 flame retardant and EN 45545-3 fire separation.

Ethylene acrylate is suitable for temperatures from -55 to +150 °C, connectors with silicone sealing inserts have an operating temperature range from -55 to +200 °C. The shells are made of RoHS-compatible aluminium alloy and are available with either a black epoxy-polyurethane non-conductive coating or a special zinc conductive coating.

Protection class IP69 according to DIN EN 60529 is standard, depending on the cable termination. For example, these connectors are ideal for connecting power, distribution boxes or fitting signal lamps.

Today, high data rates are part of the required standard. Thus, in addition to robustness and reliability, the functionality and performance of the connectors are essential too. Gimota circular connectors are most suitable for combining multiple lines such as Ethernet, MVB, WTB and video signals.




To the Products