Papers
GIMOTA Power Connectors GMP
Solutions for high voltage and high current applications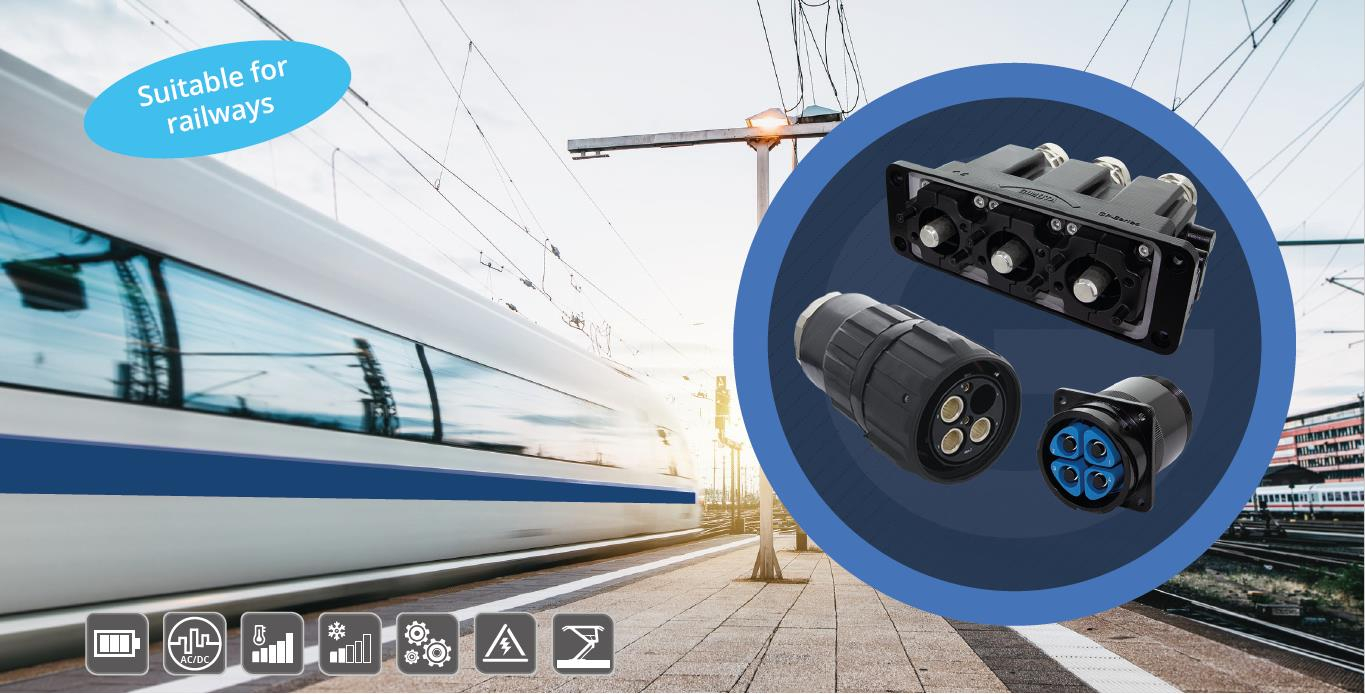 Whether you're moving from one city to another, taking a high-speed train through the desert or the metro underneath a city, it's railways that get you from A to B. To reach their destination this multiple unit trains need electrical power and voltage. Gimota GMP series power connectors are robust high current/high voltage connectors. They provide the electrical connection between
different applications within the powertrain of rail vehicles. The robust GMP power connectors are used worldwide for power transmission where very high currents flow and high voltages are required. For example, as a disconnection point between power converter and traction motor, for high-current connections between control units and vehicles or for connections to converters and batteries.

With nominal values of up to 3600VAC and up to 750A, the GMP connectors can be designed for almost all high-current connections and applications and adapted to individual requirements. Various combinations are possible with cable cross-sections of up to 185 mm², as well as a wide range of cable outlets with matching cable strain reliefs and special locking mechanisms and coding.
Depending on the model, they comply with protection class IP65/68/69 according to DIN EN 60529 when mated, which means they are designed for the most demanding applications and meet the tough requirements of railway applications. The entire connector system is RoHS compliant and fulfils the European standard EN 50467 "Railway applications - rolling stock - electrical connectors requirements and test methods". Depending on the material, the insulation inserts comply with the fire protection standard DIN EN 45545-2 R22,R23 / HL1,HL2,HL3.



• Suitable for railway applications
• Resistant housings
• Various terminations with or without shield connection
• Vibration proof
• Various designs for different applications
• More than 60 years of railway experience

• Operating temperature -60°C to +120°C
• EN 45545-2 R22,R23/HL1,HL2,HL3 possible
• EN 60529 Protection class up to IP69
• Up to 750A power
• Up to 3600V voltage
• Up to 185 mm² cable cross-section
GIMOTA Power connector with bayonet lock / Depot connector

In addition to specific parameters such as voltage, amperage or waterproofness, other application requirements must also be taken into account: Environmental and operating conditions, robustness and handling. The GIMOTA high-current connectors are often used to transmit high currents between wagon compositions. Voltages of up to 1250VAC and currents of up to 200A are possible.

GIMOTA depot connectors are usually individually designed and manufactured to meet the customer's project-specific requirements. They ensure the power supply of the train in the depot when the pantographs are de-energised.

The multi-pole modular power connectors GMP are used for motor and power connections in railway applications. They are suitable for power distribution across carriages and for connecting traction motors. They are connectors with up to 3 contacts with a cable cross sectopn from 50mm2 to 185mm2. Voltages up to 3600 VAC and currents up to 750 A can be acheived. GMP connectors are characterised by their modularity, maximum flexibility, compact design and quick assembly. They are particularly suitable for harsh environments and impress with their high resistance to vibration, impact and shaking. When mated, these robust connectors comply with protection class IP68 according to DIN EN 60529.


To the Products