Quick and easily find your product
GTB12 for field assembly
Information for GTB12 for field assembly
GTB12 are M12 connectors with bayonet quick-release locks based on the industrially proven M12 plug connection technology and the basis of the standard EN 61076-2-101, which have been continuously adapted to the additional needs of railway technology and tested according to EN50155.
Bayonet couplings compared to screw-connected connections are much simpler, more safely lockable and they offer the greatest possible vibration resistance by virtue of a form-fit, defined clicking-in of the bayonet catch.
They can be assembled in the field, have turned crimp contacts and a reliable shield connection by means of shield spring. The design is extremely slim and has a low weight. With IP 67, the products offer the required degree of protection to meet the influences to be expected in railway technology. 
In a nutshell this means: 
Bayonet quick release fastener
Suitable for the railway
Resistant housing (metal)
Small form factor (slim design)
EN45545
For field assembly
Turned contacts
Contacts are supplied with the product
IP67
Cable range 6.0 - 8.5mm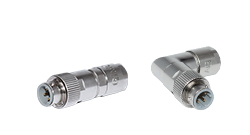 | | | Item number | Design | Version | Coding | Number of contacts |
| --- | --- | --- | --- | --- | --- | --- |
| | | GTB12-D-4-MP | Cable plug | straight | D | 4 |
| | | GTB12-D-4-MP-100 | Cable plug | angled | D | 4 |
| | | GTB12-D-4-FS-BR | Bulkhead receptacle | straight | D | 4 |

GTB12-D-4-MP

Design
Cable plug


Version
straight


Coding
D


Number of contacts
4


GTB12-D-4-MP-100

Design
Cable plug


Version
angled


Coding
D


Number of contacts
4


GTB12-D-4-FS-BR

Design
Bulkhead receptacle


Version
straight


Coding
D


Number of contacts
4