Quick and easily find your product
GTB12 overmolded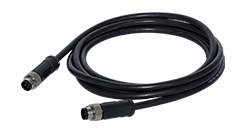 All GTB12 connectors offered by GIMOTA AG for field assembly as well as the overmolded ones have crimp contacts and a reliable screen connection. The design is very slim and light weight. With IP 65 all M12 connectors provide the requested ingress protection to fully fulfil the railway technology needs.
Gimota offers beside the GTB12 connectors for fieldassembly also overmolded versions. The customer can specify his overmolded assembly according to his needs. He specifies the type of cable, the cable length and whether he needs at both ends of the cable an overmolded connector or only at one end.
Please submit us your request by filling in the form below.
It is important that you order a minimum of 50 pieces, but these may be different versions.