Quick and easily find your product
Plug
Information for Plug
The GM modular connector series are circular connectors with bayonet coupling suitable for outdoor use.

The GM series connectors are available with seven, four or one cavity for electrical, optical or filler modules. The modules are independent connectors-within the connector. Individual screen adaptation and cable termination allow independent use of the modules. GM connectors can be coded to avoid mating failures.

The module cavities are marked with numbers for correct application to the module carrier. A guiding notch on the modules ensures a precise alignment of the contact layouts. Electrical modules with four, five-, seven-, or ten-pole contact inserts are available as a standard. The EMI adapter is designed for screen compression by a screening sleeve. The application of a heatshrinkable shapes ensure appropriate cable strain relieve and sealing performances at the cable.

The EMI shielding of the plug modules is ensured by grounding fingers and with a compressed 360° screen adaptation to the back shell. Screen adaptation to the receptacle modules is also realized by a 360° compression by a shielding sleeve to the backshell. If mated, plug- and receptacle modules provide a screened unit independent from the other modules applied to the GM connectors.

The connectors of the GM series comply with ingress protection classes IP69 according to DIN EN 60529. Each module is additionally sealed by an O-ring. The design ensures high sealing performances especially in the longitudinal direction inside the connection.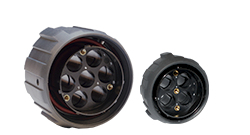 | | | Item number | Size | D1 (Ø) | N1 | L1 (mm) | EMI |
| --- | --- | --- | --- | --- | --- | --- | --- |
| | | GM602-24-1S-TAC | 24 | 60.0 | 1 3/8"-18 UNEF 2A | 39.0 | Yes |
| | | GM602-40-4S-TAC | 40 | 88.0 | 2 5/16"-16 UN 2A | 42.0 | Yes |
| | | GM602-48-7S-TAC | 48 | 109.0 | M74x1.5 | 70.0 | Yes |

GM602-24-1S-TAC

Size
24


D1 (Ø)
60.0


N1
1 3/8"-18 UNEF 2A


L1 (mm)
39.0


EMI
Yes


GM602-40-4S-TAC

Size
40


D1 (Ø)
88.0


N1
2 5/16"-16 UN 2A


L1 (mm)
42.0


EMI
Yes


GM602-48-7S-TAC

Size
48


D1 (Ø)
109.0


N1
M74x1.5


L1 (mm)
70.0


EMI
Yes